Organize Your Laundry Room
with Great Ideas
If you organize your laundry room you can save time and energy! According to Proctor and Gamble the average American spends seven to nine hours a week doing laundry. So, if organizing your laundry space helps make this task go faster then it is worth doing!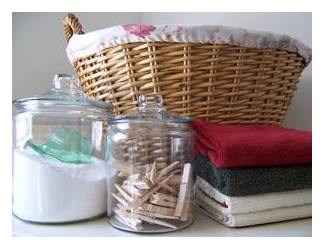 The laundry room has elevated its status and is no longer that dark space in the basement that you hated visiting out of necessity. Many new homes not only have a large mudroom to accomodate a laundry area but many now have more than one laundry space.
For many of us this is just a dream and a space pictured in a home magazine. But just because you don't have a space the size of a living room doesn't mean you can't organize your laundry room and make it as appealing and functional as possible.
So, whether you have a dream mudroom area, or small closet laundry space here are some important tips and ideas to consider:



Laundry Room Tips
Maximize your space by using every available inch. That means using the space along side your appliances or in between. Also, don't forget about vertical space. It is overlooked the most.

Assign areas for sorting, folding, drying, and ironing.
Keep a small garbage can handy for emptying the lint from your dryer.
Store all detergents and frequently used items in open cabinets or shelves for quick and easy access.
Keep a container or basket in reach for stray socks. A container for odd items found in pockets also comes in handy.
If you purchase large quantities of detergent consider decanting them into smaller containers and storing the remainder until needed.
Get kids to help with their laundry by making laminated tags with simple instructions. Put their name on an index card and write instructions for them like water temperature, time to dry, or what detergent to use. Place a ring through all of the cards and hang them in a convenient place for them to use.
You don't need a big space. Consider space saving appliances, fold down ironing boards, moveable clothes hampers and sorters, or hinged counters.
These are just a few considerations if you would like to organize your laundry room. Organizing this perhaps small space in many cases can have a large impact on you and your family.
Do you need more organizing ideas? Then try our monthly Home Organizing Ideas Newsletter. It is filled with original ideas and expert advice to help you reach your organizing goals. Receive my special free booklet on how you can start organizing your desk, garage, papers, closet and more! It's FREE so SIGN UP NOW by clicking on the link on the top right of this page!
Top of Page
From Organize Your Laundry Room Back to Home Page