5 Solutions for Organizing a
Sewing Room
Whether sewing is a relaxing hobby or an income-generating profession, you can make organizing a sewing room into a fun and productive project. If you are lucky enough to have a room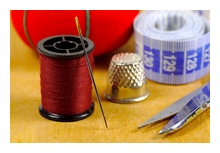 just for sewing, then you will have more flexibility in your organizing design, but if you need to share this room with a home office or guest bedroom, then you will need to keep some considerations in mind while organizing a sewing room.
Before you begin organizing, make a thorough inventory list of all the items you need in your sewing room, such as:



Sewing machine
Sewing table
Fabric
Cutting board
Patterns
Threads
Mirror
Notions: thimbles, threaders, rulers, tracing tools, needles, pins, cushions, bobbins, elastic, seam rippers, pins, ribbon, dyes, fabric care, etc.
Iron and ironing board
Garment steamer
Dressforms
Other
Next, designate areas within your sewing room. I have simplified the process for you by dividing your room into five separate areas below.
5 Easy Ways for Organizing a Sewing Room
Create a Sewing Table Area – This should include the sewing table or desk, sewing machine, and a small basket or organizer for your daily sewing needs. This should also include enough open space for you to keep the material and supplies of your current project within easy reach.

Your sewing table is best placed by a window to maximize natural lighting. If that is not possible, use halogen bulbs. There are a variety of desktop and floor lights available, some are even equipped with a magnifier.

When organizing a sewing room consider the right floor covering.The flatness of a tile or linoleum is usually preferred over soft carpet to keep the machine in balance.

Create a Fabric Storage Area – As a sewer, you probably have quite a vast collection of beautiful fabrics. Help these fabrics maintain their beauty and structure by storing them safely.

There are different ways to categorize your fabric:
By Color: whites, blues, tans, reds, greens, etc.
By Style: plaid, stripe, toile, polka dots, floral, contemporary graphics, holiday, etc.
By Texture: cotton, rayon, denim, velvet, silk, canvas, leather, etc.
By Purpose: clothing, home furnishing, crafts, etc.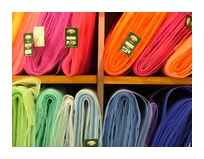 Store your fabrics by:
Folding neatly and place in plastic containers. Label the outside by cutting small swatches of each fabric.
Hanging fabric in a closet with a skirt or pant hanger. Multi-tiered hangers with clips can save space and help prevent wrinkles.
Placing smaller amounts of fabric in large Ziploc bags.
However you decide to store the fabric, just make sure it is in a temperature-controlled environment to protect the fibers.
Create a Pattern Storage Area – Rather than keeping patterns scattered all over the place, keep them neat and tidy in a designated area. Lining up your patterns in drawers work especially well, either dresser drawers or durable cardboard or plastic drawers. You could also keep your patterns tucked inside a sturdy photo box, plastic container, pretty rectangular baskets, etc. Label the drawers or boxes based on one of the categories below.
Style: shirts, slacks, skirts, dresses, etc.
Size: infant, children's, teens, adults
Gender: male, female
Brand: Butterick, McCall's, Vogue, etc.
Pick one system and stick with it.
Create a Sewing Supplies Area – Are your sewing supplies scattered all over the place? The exercise of organizing a sewing room would be incomplete without finding a home for all your little tools. Depending on what your current inventory is, you may find the following items useful:
Sewing caddies – many of these include lots of dividers and pull out drawers as well as handles for easy transportation.
Thread boxes – these are convenient for seeing what colors you have available.
Drawer organizers – help you keep supplies separated and identifiable.
Household items – things you have around the house (for example, jars, plastic containers, etc.) can help you keep small items together.
These supplies don't need to be on or even next to your sewing table if you have open space for all of your daily sewing needs.
Create a Miscellaneous Area – When organizing a sewing room there will always be difficult items to organize. This does not mean a "left over" area, rather this is for bigger items such as a full-length mirror, cutting board, iron and ironing board, garment steamer, and dressform. If you are tight on floor space, try hanging your mirror and ironing board on the wall. The cutting board can be tucked away in a closet or behind a desk or dresser. You may also want to find a spot to keep your gift wrapping supplies organized.
With these useful tips, organizing a sewing room can be time-saving event so you spend less time searching and more time sewing!


Top of Page


From Organizing A Sewing Room Back To Home Page




Do you need more organizing ideas? Then try our monthly Home Organizing Ideas Newsletter. It is filled with original ideas and expert advice to help you reach your organizing goals. Receive my special free booklet on how you can start organizing your desk, garage, papers, closet and more! It's FREE so SIGN UP NOW by clicking on the link on the top right of this page!