Sewing room organization can be so challenging - there are so many items to organize. The list goes on forever. That is the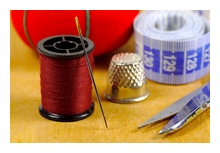 best reason to start organizing if you haven't started yet. Remember, it is easier to maintain an organized space than it is to start one.
No matter what type of space you are dealt with there are organizing solutions for you. To get started just follow the steps below.






The Dedicated Space - Do you sew regularly and have an extra room to spare? Are you a seamstress and own your own business? Do you have more than one machine and lots of items to store? If you answered yes to these questions then it is best you have your own space. This is especially true for the at home seamstress. Not only will you have to keep your sewing items organized but your clients items as well.

This is when you have your own sewing room - the ultimate luxury! But,don't get wrapped up in the size. Sometimes the more space you have the less you organize because you just start laying things everywhere.

When you start your sewing room organization it is best to make a layout of the room. Then decide what furniture you will need if any. You can choose from just about anything like desks, bureaus, bookcases, shelves, modular units, armoires, or a combination of a few if your space permits.

Just remeber to leave a space for all of your tasks like ironing and cutting.

The Shared Space - Do you sew ever once in a while? DO you have a good amount of items to store? Do you lack a separate room to devote just for sewing? If you answered yes then a shared room is likely your best bet.

You can use a guest room, office , bedroom, dining room or any room with the necessary shared space. You must get creative with storage but it can be done and done well with a good plan.

The shared space can be just as organized as having a dedicated room but it is more challenging. A guest bedroom or office is often the site of a craft or sewing space.

Some storage can be kept under a bed in boxes.

The sewing machine can be housed in a piece of furniture that looks like a table or bureau when the machine is put away.

Find a place to store a cutting board. Some ideas are under the bed or behind a dresser or headboard. If you have the space you can also build one mounted to the wall as a drop down piece.

You can also empty out the closet in the room provided it is a double closet space and customize it to suit your sewing needs. You can add shelves, drawers, a counter, hooks, baskets - you name it. When it is not in use simply close the doors or make a beautiful "curtain" to cover the space and add a softer touch.

The Portable Space - Are you short on space? Do you sew while doing other tasks like watching T.V. or supervising children? If you answered yes your sewing habits require you to take the sewing where you need to go at any given time. This is a situation when you want your items to be easy to access but out of the way when not in use.

Sewing room organization can be done for a portable space as well. It is amazing how much space you can find if you look around. If you are one of those people who sew in just about any room that is available than here are some tips:

Use decorative storage. Try to incorporate as much style as possible to match your decor since the storage will very often be in plain view.

Use portable file cabinets or any storage device on casters that can be positioned where you need it.

You can also store you sewing machine in a small carry on piece of luggage with wheels to tote around the house easier.

There are many storage ideas for your situation. To check out great storage ideas click here.
Sewing spaces are personal but by following these simple steps you can start your sewing room organization project and customize it to your needs. When you are done you will spend more time sewing and less time searching for things you need - a win-win situation!